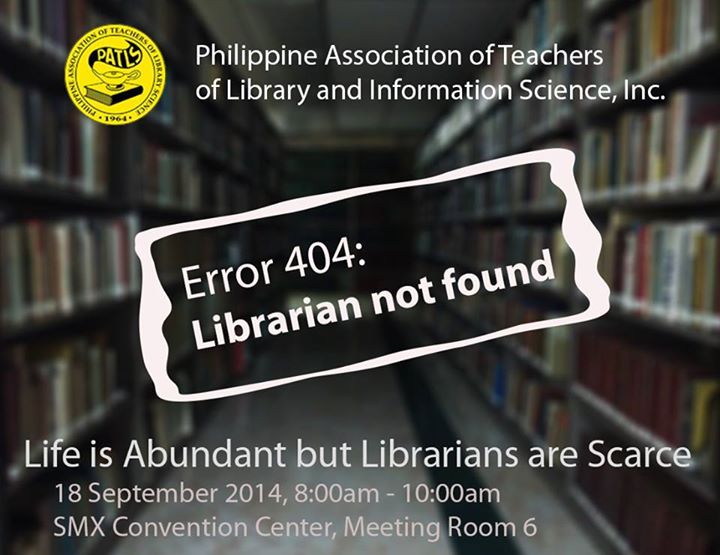 PATLS is currently celebrating its Golden Anniversary with the theme PATLS: 50 Years of Service to a Century of Philippine LIS Education. As part of its year-long golden celebration, we would like to invite you to attend a forum entitled Life is Abundant but Librarians are Scarce on 18 September 2014 from 8:00 to 10:00 AM at the SMX Convention Center, Meeting Room 6. This occasion is in collaboration with the 35th Manila International Book Fair on 17-21 September 2014.
The forum speaker is Dr. Reysa C. Alenzuela, Dean of Academics of Cabalum Western College.
"While a significant number of Filipinos are unemployed and the government is mulling the possibility of opening librarian positions to non-Filipinos, Dr. Alenzuela's presentation will discuss the issue of inadequacy of librarians by building on qualified and competent professionals through a strong Library and Information Science Education."
The forum fee (which includes certificates of participation and attendance) is PhP 300.00 for non-PATLS member; PhP 200.00 for PATLS member, and; PhP 100.00 for undergraduate students.
We only have limited slots, thus we encourage you to pre-register here https://www.eventbrite.sg/e/life-is-abundant-but-librarians-are-scarce-tickets-12561550937?ref=enivte&invite=NjQzMjU2MS9ncmFiLmdjYWJAZ21haWwuY29tLzA%3D
You can also email or contact any of the following officers:
YHNA THERESE P. SANTOS
Telephone no.: 9818500 loc. 2869
Email: This email address is being protected from spambots. You need JavaScript enabled to view it.
MARTIN JULIUS V. PEREZ
Telephone no.: 8344930
E-mail: This email address is being protected from spambots. You need JavaScript enabled to view it.
Payment may be made in cash or in check payable to Phil Assoc Teachers Lib & Info Science Inc.
Kindly extend the same invitation to our professional colleagues, students, librarians, and teachers in your institution. We highly appreciate your continuous support and participation to the association.